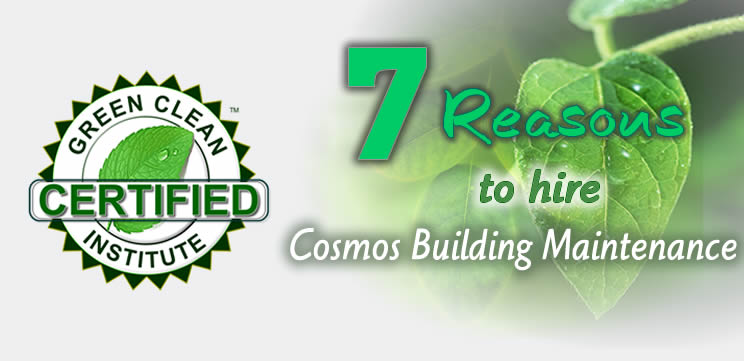 As you consider the next step for your business …
We would like to suggest that you consider hiring a cleaning service that is Green Clean certified. In fact, there are serious reasons to assure that a very fundamental part of your company is actually Green … and not green-washed.
Nearly every cleaning company will claim to be Green, but how do you know? Third party certification is the sure cure for green-washing. While you are considering the cleaning service, why not make it a Green clean service?
There are seven vital reasons to consider hiring a Green certified firm which can be of value to your company:
1. INTEGRATION: No company can be fully Green without a Green cleaning service. With popular Green practices, it is a fundamental error to use a cleaning company that isn't Green certified.
2. COMPLIANCE: Increased municipal, state, and federal rules will be seen in the Post-2012 agenda. Many cleaning supplies are not as Green as you may think, and laws are changing.
3. WORKPLACE SAFETY: Management and employees need a safe workplace that includes protection from toxic exposure. Long term exposure to chemicals will produce health issues in any working group.
4. CERTIFICATION: Every reliable Green business certification program gives points or credit for a certified Green cleaning service and the use of Green cleaning products.
5. RISK MANAGEMENT: Environmental lawsuits have increased by 300% due to Sick Building Syndrome and Building Related Illness.
6. CARBON FOOTPRINT: Few people realize that the VOCs emitted from most standard cleaning products actually turn into Green House Gases which, once released into the air, add to climate concerns.
7. PRODUCTIVITY: Poor indoor air quality reduces employee productivity due to increased sick days, headaches, lethargy, mild nausea, and can contribute to increased medical claims.
There is no doubt that every company will eventually Go Green. There are many reasons that we can offer, but the best one is that this is not just about the business. It is the legacy that we will leave behind us.
The business community uses between 40-70% of all resources, and can be both wasteful and foolish in how it gives back to the community.
Going Green will cut your costs, improve your business, and it will leave a better world for all of us and the generations that follow. We are proud to offer your company something that money can't buy…
Sincerely,
Rolando López
Cosmos Building Maintenance
Phone: 415-786-8775
cosmosbuildingmaintenance@yahoo.com
Health, Hope, and a Better Future
Thousand's of Square feet every day​
Each job is completely tailored to meet your specific needs, and exhaustive quality assurance inspections make sure that the job is done to your exact specifications.